Feature products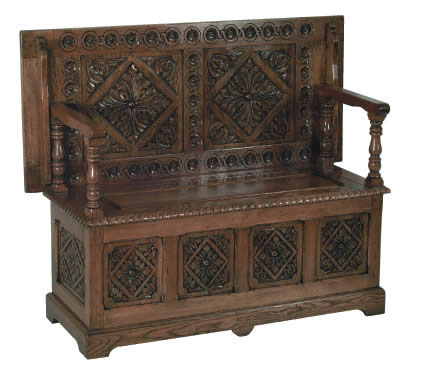 Another piece with very detailed hand carvings, typical of the Jacobean era with its stylised motifs.
The Monk's Bench is actually three pieces of furniture in one – bench seat, trunk, and table. The base of the seat lifts to reveal a useful storage space below as a trunk, and the back panel of the bench will slide onto the arms to form a table. Not only is this a very ornate and elaborate piece but through its clever design is a very practical and versatile piece of furniture which can be placed in hallways, living rooms, dining rooms or bedrooms.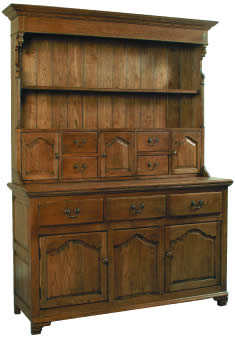 A charming and practical piece of furniture, the 19 th century oak dresser will add warmth to any room it's in. Whether our dressers are used in a family kitchen or used to compliment a dining room, our warm medium oak standard finish gives a lovely feeling of old world charm. As with all our products the build quality is exceptional. Closer inspection will reveal all joints to be neatly dove tailed, and the bottom of the draws are constructed from the same oak, not substituted with cheap softwood or even plywood as you may encounter with less scrupulous furniture makers.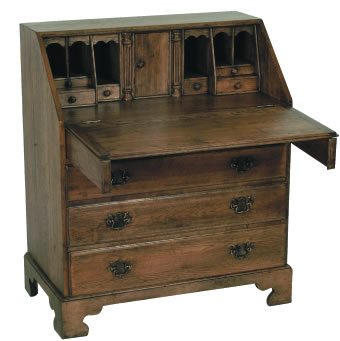 Our Georgian style bureau provides a versatile and practical workspace for any study or home office. The bureau features a fold down writing desk and bracket style feet typical of the period. This cleverly designed piece features two secret sliding compartments disguised behind the spice drawers. Hidden away behind the three base drawers are a further three secret cupboards completely hidden from view.
For further information on our reproduction furniture, email info@swallow-barn.com